ONE OF LORELEI's MOST CREATIVE IDEAS: TO DO SOMETHING ABOUT THE 20% UNEMPLOYMENT RATE IN HER AREA BY BUILDING A "HERITAGE HANDCRAFTS VILLAGE" IN NORTHERN MINNESOTA .
Here's the story in her words:
"This is about 12 ordinary women (teachers, nurses, community volunteers, etc.) who created something extraordinary in their poor rural county with it's staggering 20% unemployment rate.  We decided to build a hand-crafts village as a tourist attraction, a place for local artisans to sell their wares and a place to provide employment in the local community. However, none of us had any experience in building–and we had less than six weeks in which to do it if we were going to be open by the beginning of tourist season Memorial Day weekend.
"Here's what the experts said we'd never get done on our 67 acres of wilderness in the limited time we had:  Coordinate getting the infrastructure built: road, electricity, well, septic system.  Build  eight "cottages," hire and train 60 people to staff the buildings, find 200 crafters to supply handwork to the shops, create an inventory system, display the crafts in the cottages, and put out a tourist brochure on a place that didn't exist yet."Called "crazy" by the locals, I and 11 other "Founding Mothers" did it!  We built and opened this award-winning attraction in just FIVE WEEKS AND FIVE DAYS from the day we broke ground.  Corporate Report MN said "What the Founding Mothers did would blow the hardhat off of any general contractor."
 
"Our "village" became a major MN tourist attraction. In its first year, it had 100,000 visitors and won all the top Minnesota tourism awards. It eventually employed 100 people, and sold the handwork of 400 artisans.  The economic impact on the local area was astounding–all from an idea created at a baby shower."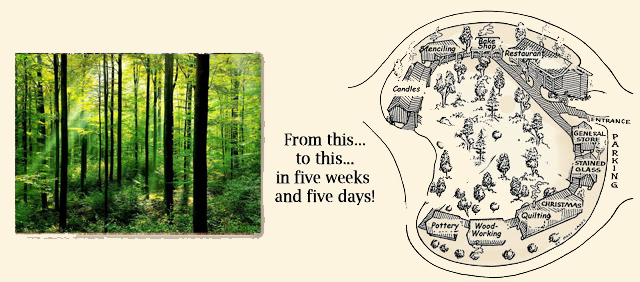 Click on the video to see a four minute preview of the documentary "Five Weeks and Five Days," the amazing story of the building of The Village of the Smoky Hills and the women who went from ordinary to extraordinary in daring to do this project for their community.
BUT THIS IS JUST ONE OF LORELEI'S INSPIRING STORIES.
SHE STARTED A CANDLE-MAKING BUSINESS IN HER BASEMENT.
Though the neighbors laughed, and it took six years to get out of the basement, the Lorelei Studios eventually shipped nationwide to 6,000 stores.

SHE PRODUCED AN EXTRAORDINARY DOCUMENTARY.
With no background in film-making, Lorelei produced an acclaimed documentary on the amazing story of the building of The Village of the Smoky Hills, which PBS has chosen twice to show as a special.
SHE HAS WRITTEN TWO HIGHLY ACCLAIMED BOOKS AND CO-AUTHORED ANOTHER WHICH REACHED #1 BEST SELLER STATUS, AS WELL AS BEING FEATURED IN TWO OTHER MAJOR BOOKS.
Though she has no background in publishing, she's doing a series of books on entrepreneurship and being a working mom. While her inspirational lessons of "Words of Wisdom" apply to both men and women, she has a special fondness for the "mompreneurs" of the world, as she was one herself. She managed to accomplish everything in her inspiring life while being a single mom raising two children.
LORELEI'S BOOKS:
       " ANYTHING IS POSSIBLE!  What You Can Learn From a Little Country Girl Who Went From a Two-Room School to Building an Award-Winning 'Village' in Just Five Weeks and Five Days."
        Brian Tracy, Brian Tracy International, who has himself written over 50 business books, wrote the cover testimonial for this book: "This is an extraordinary book, full of ideas and insight that inspire you to set bigger goals and motivate you to persist until you succeed."
        "LETTING GO OF MOMMY GUILT:  Minnesota's Woman Business Owner of the Year Shares Her Secrets of How You Can Raise Good Kids Even if You're Super Busy!" 
 

         "SUCCEEDING IN SPITE OF EVERYTHING"  (#1 Best Seller)
          Co-Author with other notable women including editor Sandra Yancey of eWomenNetwork; Lisa Nichols of "The Secret;" Marcia Wieder of "Dream University."
         FEARLESS WOMEN: VISIONS OF A NEW WORLD  (#1 Best Seller)
Photographs by acclaimed photographer MaryAnn Halpin of notable women with a "Sword of Courage," each who tell of their vision for what the world could be like going forward.  Lorelei is one of the woman in the book, along with Linda Gray of "Dallas," Judge Pam Alexander, Marcia Wieder, etc. 
          JUMP START YOUR SUCCESS : 23 Top Speakers Share Their Insights for Creating More  Success, Wealth and Happiness"
 Brian Tracy (Brian Tracy International)  and James Malinchak (one of ABC's "Secret Millionaire") are two of the contributors to this book along with Lorelei.

(These books are available in the store–just click on the "Shop" button at the top–and shipping is free.)  
LORELEI CO-CHAIRED AN INNOVATIVE 
REGIONAL MARKETING CONCEPT.
Seven months after a tourism expert said the organization would never get off the ground because there was "no money and no staff", Lorelei and the other volunteers had 14 communities officially incorporated together as "Land of Legends", and had 100,000 newspapers on the street. 18 months later it was named out of London, England, as one of the top 100 places to see in the U.S.
SHE STARTED PAINTING AT AGE 30.
Though she had no formal training, her paintings were so good she was asked to show at the National Wildlife Art Show (only 60 artists are chosen nationally each year). She also won numerous awards for her other paintings at shows throughout the Midwest.
Lorelei is a great role model because you can see from her life that she never let not having training stop her from going ahead with things she wanted to do!
For speaking engagements, click on the "Speaking" button
in the tabs at the top.