LORELEI'S EARLY LIFE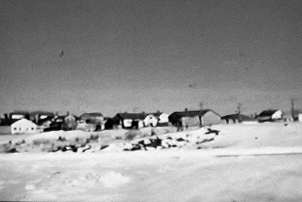 Lorelei grew up in this poor rural town, went to a two-room country school, and graduated from a tiny high school in a class of 12 in the Upper Peninsula of Michigan.Lorelei's father was an immigrant from Germany, and her mother was a first-generation American born of immigrant parents from Germany and Hungary. From them she gained the "just roll up your sleeves and get it done right" attitude that has served her well in her endeavors.
THE MIDDLE YEARS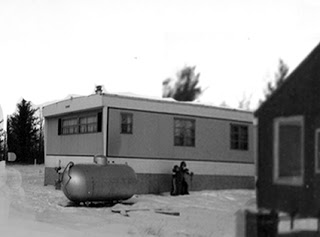 Lorelei got married, had two children, and was divorced.  She then lived with her children in this old trailer in northern Minnesota.  The trailer only had 2″ thick walls, which was not nice when it would get to 40 degrees below zero!  Lorelei supported her children by making candles in the building next to it, shown on the right in this picture.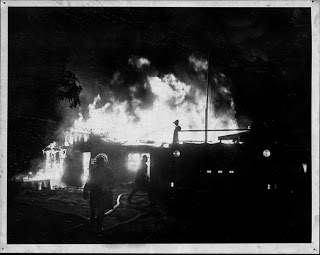 Lorelei lost that business, which was the sole support of her children, and everything in the building in this fire one hot August night at midnight.
She went through a flood, lost her home and business in the recession..

       Yet in spite of all of these disastrous things that happened in her life, Lorelei kept getting up and moving forward quickly, actually always looking forward to the challenge of how to overcome whatever it was she was going through. She moved into the ranks of only 1.8% women business owners who achieve a million dollars in revenues–and she created TWO businesses that each achieved that milestone. 
TODAY


Lorelei is an author, producer, speaker and coach. What makes her different from other authors, speakers, and coaches is that she has actually done what experts call "impossible"– over and over again.Of all the businesses Lorelei created, she was educated in none of them, and yet ended up on the cover of national business magazines.Lorelei was a "mompreneur" long before there was such a term.
As a single mother of two, she combined being an entrepreneur with raising two great kids who also share her independence of spirit.
You can see the books Lorelei authored under the "BOOKS" tab at the top of the page. Lorelei has also co-authored a book with several other top business leaders. Brian Tracy has written 45 books and produced more than 400 audio and video learning programs which have been translated into 27 languages; he speaks to more than 250,000 people worldwide each year. James Malinchak was the "Two-TIme College Speaker of the Year, a co-author of "Chicken Soup for the College Soul," and ABC's "Secret Millionaire" the first year. The book she co-authored is titled "Jump-Start Your Success": 23 Top Speakers Share Their Insights for Creating More Success, Wealth and Happiness."
Lorelei's acclaimed documentary, "Five Weeks and Five Days," has been shown as a PBS special.
She lives in North Carolina with her cat and shares her wooded backyard with assorted chipmunks, squirrels, deer, rabbits, and the occasional wild turkey.