OK.
You know where you are in life.
But you feel stuck.
And wouldn't it be a shame to go to your grave with your song still inside you?
So you came here, a woman searching for a program or coach, someone, anyone, who can help you move quickly: start a business, grow your business, get a promotion, etc. It seems particularly hard for women to get off the teeter-totter of their fears ("How will this affect my family? What if I succeed? What if I don't?" ) and reach for that next level of success.
I know. I've been there. As a woman starting a struggling business and being the sole support of two small children, I had to learn how to navigate the system.
Here's what I've learned. It doesn't matter where you live. It doesn't matter what your circumstances are. It doesn't matter what you do for a living. It doesn't matter if you're an entrepreneur, or work in the corporate world. What you need is a system that will make what you do shine, and will work for you no matter how much the world changes around you– whether now or a decade from now.
Here's the good news:
There is magic in the power to see your dreams and then make them real!
It's not as hard as you think to let go of your fears, step out of your comfort zone, and reach higher. I'm a woman who's been on this journey; I know the anxieties when you move out of playing it safe and the frustrations of trying to juggle work, family, community.
I understand your unease and I promise that the system I've developed will be there to guide you and strengthen your journey.
Now, there are many good coaches out there and many good programs. But so many are about "shifting limiting beliefs," "getting in touch with your feelings," etc. I know you want and need something more, something practical, some straight shooting that will start to make a difference in your life NOW, from Day One, when you don't have to wait six months or a year to see results.
Welcome to my system of "Seven Keys to Kicking Butt"  ©™
(Without losing being nice!)
Need proof my system of moving quickly works? Eleven other women and I, using my system, built and opened an entire craft village in just five weeks and five days from the day we broke ground––something ALL the experts said was impossible. In our forest we had to build a road, well, septic system and bring in electricity. We had to build eight buildings, hire 60 employees, find 200 quality crafters to fill the shops. Then create the displays in the shops. Develop publicity and brochures. IN FIVE WEEKS!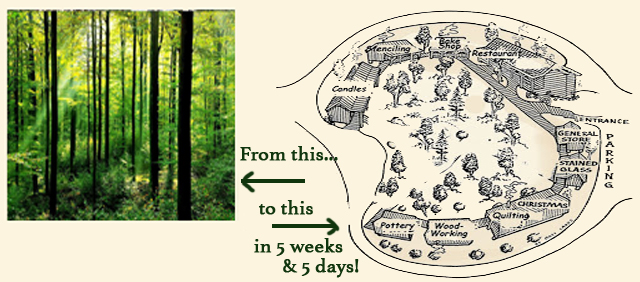 Want to see my system in action? Watch the first four minutes of a documentary I produced
on building The Village of the Smoky Hills:
Why be normal?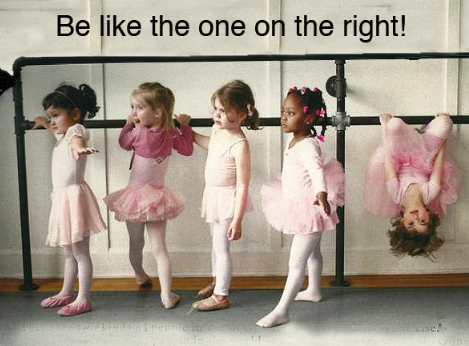 I don't teach the nitty-gritty, like how to do spreadsheets. I teach on the big picture– getting rid of the stuff that doesn't matter so you can take the next steps on your journey and do them quickly.
This system "Seven Keys for Kicking Butt !" ©™ works for women everywhere if you follow the steps. Yes, you can do it!  The results are exceedingly rewarding. (The best part is that understanding these seven keys will work in all areas of your daily life, not just in your work life,)
It isn't that I think out of the box, but that I don't even see the box. I never tell myself I can't do something because I don't have proper training, I just figure out a way to get it done. My system has enabled me, with no training, to start businesses, produce documentaries, write books, etc. Remember: Experts built the Titanic and it sank–amateurs built the Ark and it floated!
Come join me on a voyage of discovery–of what YOU can do too!
Please fill out the form at the top right for more information about my programs. If you need immediate assistance, all information is on the "Contact" page ( the button is the last one on the menu bar.) Thanks!
"We can find any number of people to give technical assistance.
You, however, give people hope." -Blandin Foundation
"Witty, bright, and full of faith–a mixture that has her audiences spellbound
–and leaves them with their batteries charged!"
-National Association of Women Business Owners
"I've known and worked with Lorelei since her early days in business.
She has the ability to make people see their dreams.
Lorelei is not only extremely talented in many areas (a true Renaissance woman!)
but she has one of the most generous spirits I have ever encountered.
She is always reaching back with a helping hand to others."
– Ilse Armstrong CEO, Candle Enterprises, Inc.
"Lorelei's book "Anything Is Possible!" is an extraordinary book,
full of ideas and insight that inspire you to set bigger goals and motivate you
to persist until you succeed."
Brian Tracy, Brian Tracy International
"I'm a movie buff, a documentary buff. And I just recently watched
Lorelei's amazing video ("Five Weeks and Five Days")
on how she and inspiring group of women came together and built
an entire hand-crafts village in just five weeks and five days.
The documentary is so amazing that's it's even been shown on public television.
Do yourself a favor and watch this video! If you are a teacher,
show it in a classroom. If you are a company, show it to your workers.
It will teach everybody how to come together, be more productive,
get more out of their life individually and as a group. This video is dynamic!"
James Malinchak , "Two-Time College Speaker of the Year,"
ABC's "Secret Millionaire," and co-author of
"Chicken Soup for the College Soul."
"Lorelei has been a role model for me for many years.
She knows how to light a path for a future filled with hope
and then marshals the resources necessary to implement her vision
through her energy, creativity and belief that anything is possible!"
Jill J. Johnson, MBA President of Johnson Consulting Services
Minnesota Women Business Owner Hall of Fame